TAKING FLIGHT: Birds & Bicycles Berlin | Event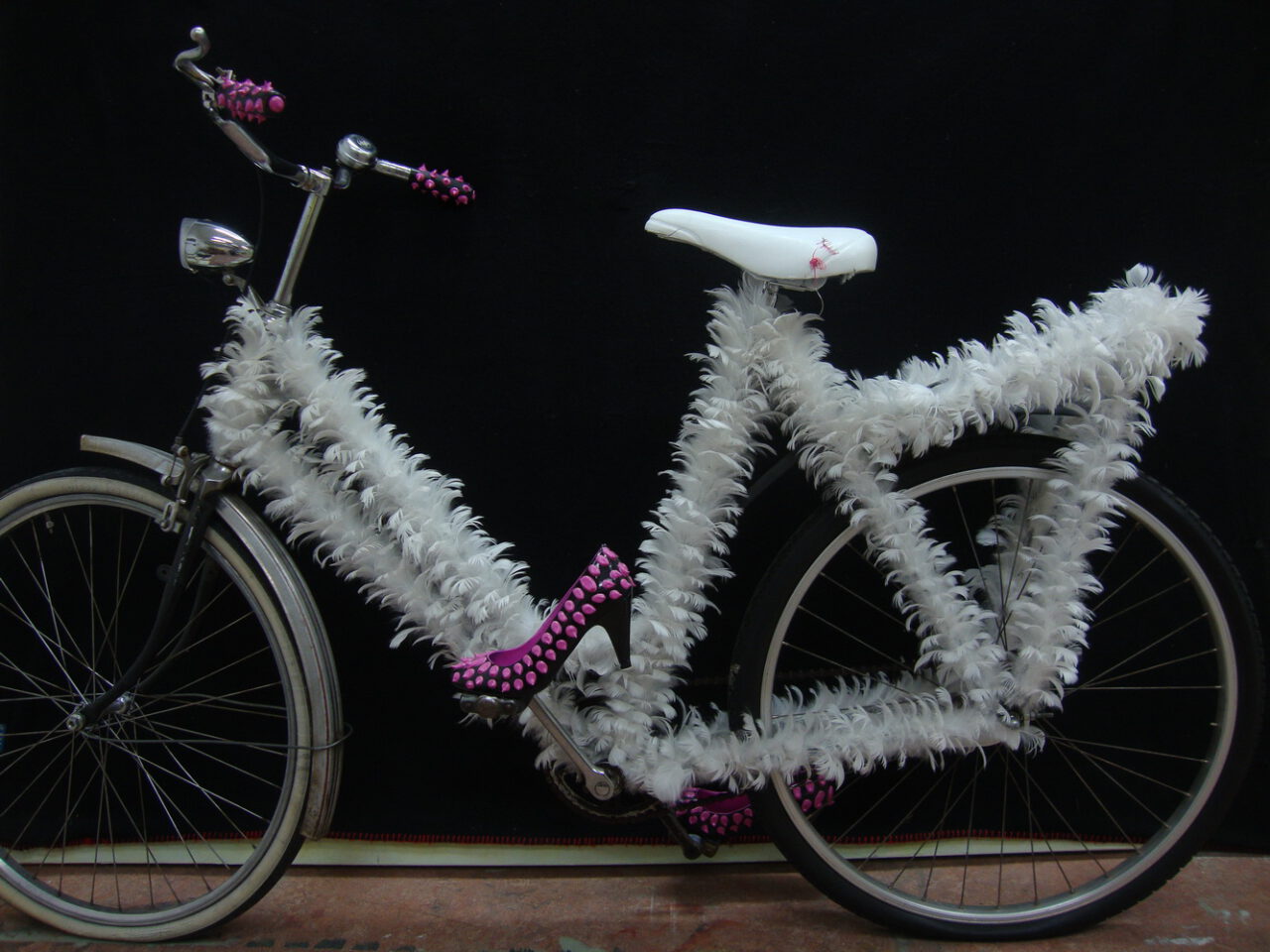 Alexei Kostroma "Berlin Girl", 2008
Featuring:

AES+F // Shaarbek Amankul // Inna Artemova // Marina Belikova //
Zuzanna Janin // Alexei Kostroma // Dominik Lejman // Almagul Menlibayeva //
Hajnal Nemeth // David Szauder // Mariana Vassileva // Vadim Zakharov

Curated by
Rachel Rits-Volloch & Emilio Rapanà
With David Elliott, Curatorial Advisor & Symposium Organizer

Together Birds & Bicycles

Initiated by Georgy Nikich, Association of Cultural Managers, Moscow

Supported by a grant from the
German Federal Foreign Office
for the Expansion of Cooperation with Civil Society
in the Eastern Partnership Countries and Russia

In Partnership With:

Moscow Museum, Moscow, Russia; Culture Center The Rails, Tver, Russia; Media Center Vyhod, Petrozavodsk, Russia; Ufa, MIRAS Gallery & Vozrozhdenie, Republic of Bashkortostan, Russia; BWA Krosno, Krosno, Poland; Kadr Cultural Center, Warsaw, Poland; City Cultural Institute, Gdansk, Poland

Birds & Bicycles is conceived as a 'factory of metaphors', taking as its premise the ideas of freedom and the notion of borders, forever shifting and perpetually being crossed, where bicycles symbolise physical freedom, and birds metaphysical freedom; birds become the philosophy of freedom, and bicycles the technology of freedom. The overall manifestation of Birds & Bicycles is an international cooperation between 9 partners in Russia, Poland, and Germany, each hosting their own exhibitions and discussions focused around common values symbolized by the topics of freedom and crossing of borders. Based on social activism, historical reflections, and contemporary art, the project develops an expanding framework of participatory culture, with the contributions of each international partner brought together in a single online platform sharing the social, educational, and communicative results of the Birds & Bicycles initiative.

In Berlin, MOMENTUM presents Birds & Bicycles with the exhibition and symposium TAKING FLIGHT. Extrapolating from the metaphor of birds and bicycles, we build our program around the analogy of flight. Referring to the duality of the term flight as both an airborne means of travel and an escape from crisis, the metaphor of flight is especially important in the historical and contemporary context of Berlin. From the aerial bombardment and destruction of Berlin in WWII resulting in reconstruction on-going to this day; to the Berlin Airlift during the Cold War, when for 15 months in 1948-49 American and British forces flew over Berlin more than 250,000 times to drop essential supplies to keep the population of West Berlin alive during the Soviet blockade; to the transformation of the Nazi-built Tempelhof Airport into Europe's largest refugee camp in 2015 to house many thousands of migrants fleeing humanitarian crisis in their homelands to this day; to the Berlin Brandenburg Airport fiasco when, after a 10 year delay, seven missed opening dates, and over a billion euros over-budget, the German capital's new airport finally opened in 2020 amidst pandemic travel restrictions. In a city itself long divided, located in the geographical center of a divided Europe, the history of air travel in Berlin is a history of crisis, indivisible from the basic humanitarian need for freedom. It is an account of flight in both its senses – as a form of travel and a means of escape across borders.

For the factory of metaphors which is Birds & Bicycles Berlin, TAKING FLIGHT assembles the work of 12 artists from Russia, Poland, Hungary, Bulgaria, Kazakhstan, and Kyrgyzstan, who are now Berliners. Representative of the significant cultural diaspora in Berlin from the former Eastern Bloc, the artists in this exhibition address the metaphor of flight as a symbol for freedom in various forms. While AES+F re-imagine the airport as a modern-day Purgatory, Almagul Menlibayeva gazes out at space as the next border we are racing to cross. Vadim Zakharov, too, looks out to the heavens to send a signal to the sun as the only way to travel beyond the borders closed to him. While David Szauder surrealistically re-animates his grandfather's Super 8 footage from the Eastern Bloc of the 60's-80's, Shaarbek Amankul captures the historic moment of Lenin in flight, suspended between a past of failed ideologies, and an uncertain future. In a world of global humanitarian, ecological, and medical disaster, we may often feel as if we are in free-fall. Dominik Lejman's skydivers undulating in the vastness of space come to resemble at one moment the geometric shapes of gothic church architecture, and in the next the biological forms of chromosomes; continually switching between the spiritual and the scientific origins of life. The birth – or persistent possibility – of a dictator is presented as Vadim Zakharov's reminder that history is always on the verge of repeating itself. Hajnal Németh's operatic rendition of quotations from failed leaders presents a sadly timeless portrait of an age when the irresponsibility and ignorance of leaders grows undiminished. Mariana Vassileva's iconic microphone envisions the explosive power of the word through a subtly subverted symbol of power. While Inna Artemova's exploded utopia is perhaps a reminder that any dream of a perfect society is by necessity build upon the ashes of its opposite. In his ongoing examinations of the unity of meanings in society and nature alike, Alexei Kostroma seems to be searching for a formula within nature to solve the many woes we inflict upon it. Zuzanna Janin's boxing ballet is a work perpetually relevant in a time when we are all dancing around the issues. And the Russian exclamation balagan – describing, with celebratory gusto, a farce, a fine mess, the most unholy of cock-ups – is deployed by Marina Belikova to present a critical challenge to the chaos and misrule of our times.

TAKING FLIGHT: Birds & Bicycles Berlin | Event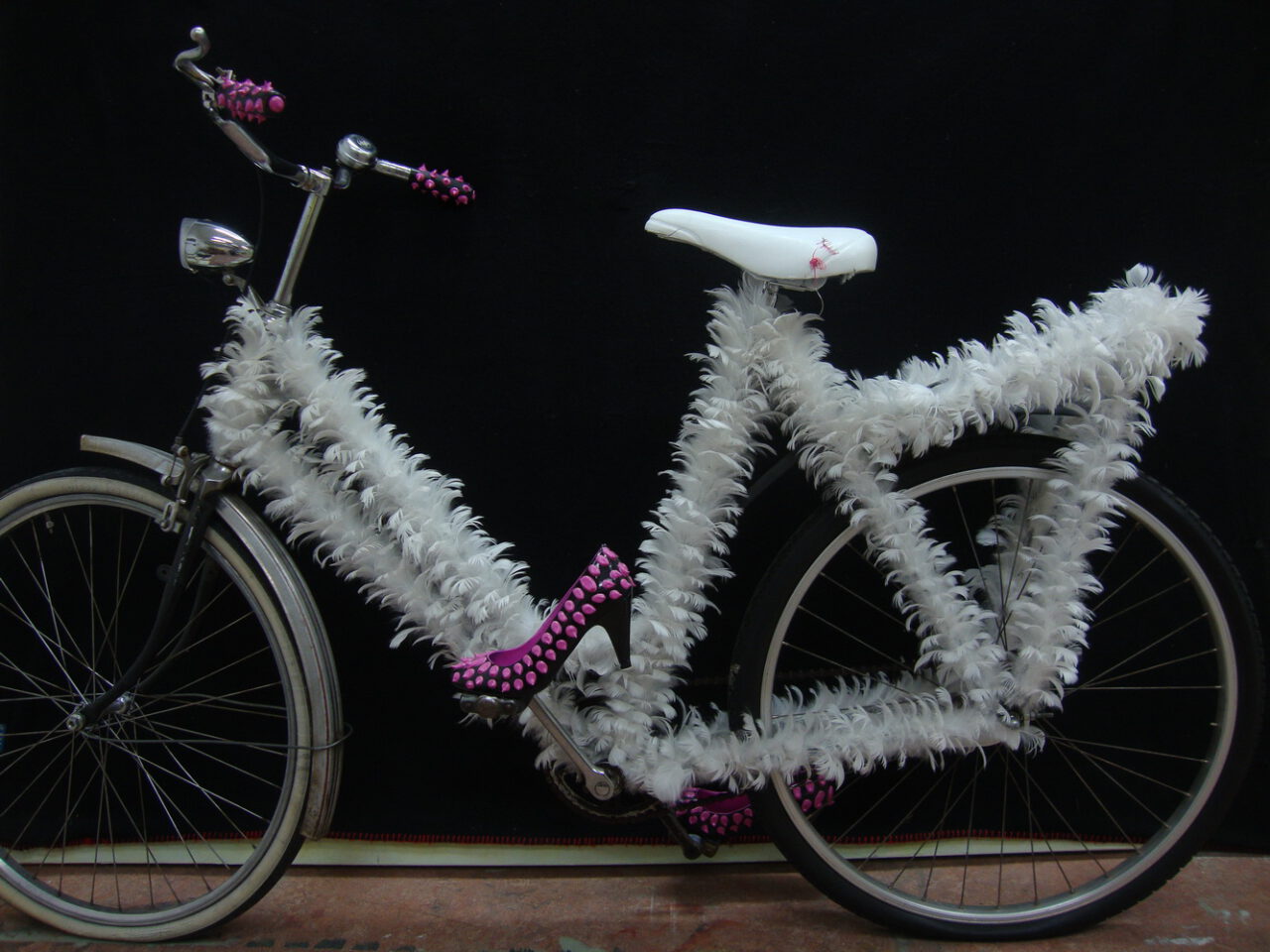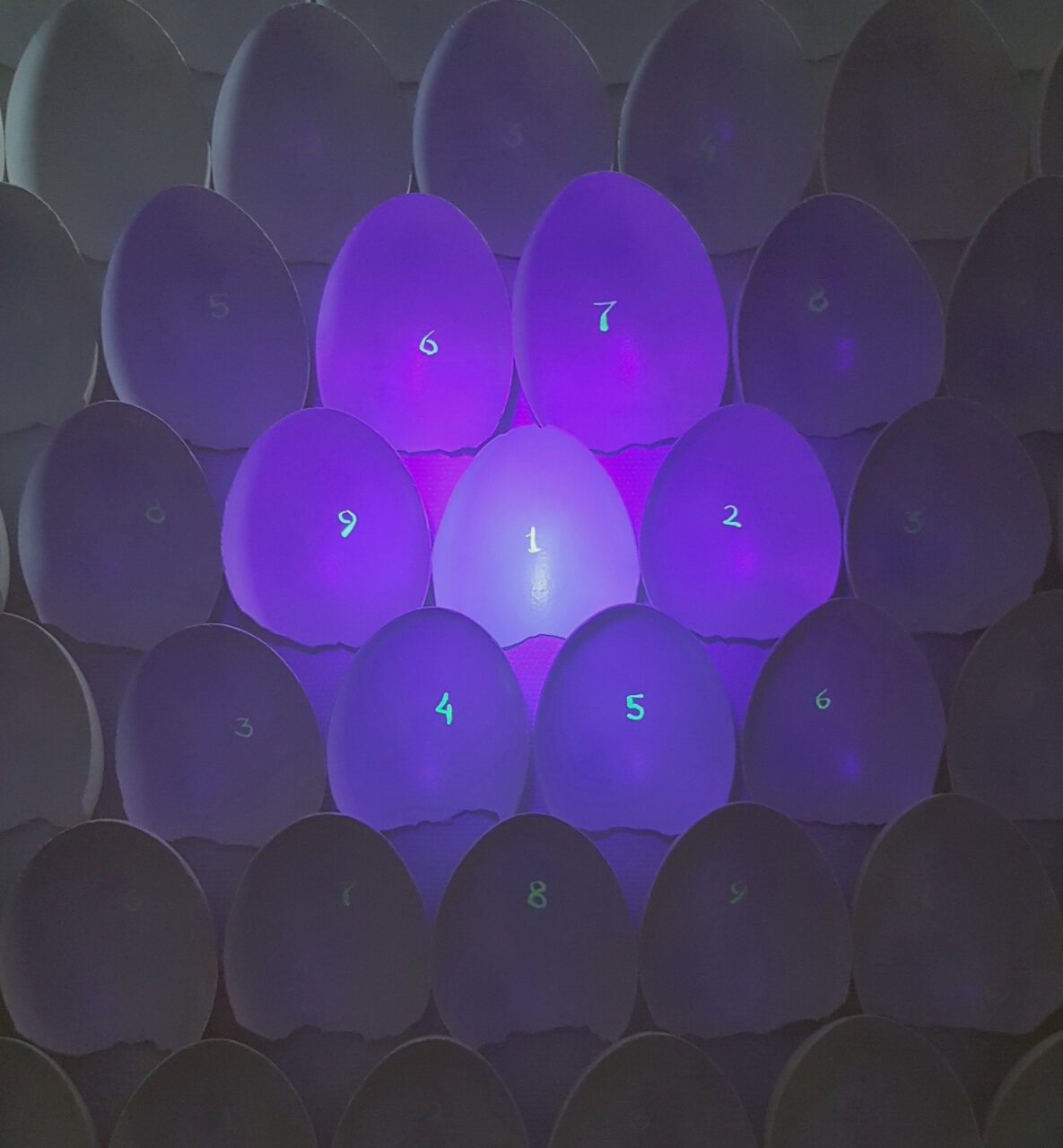 Alexei Kostroma NANO 163. 2017 / Invisible numbers on eggshells under black light / Fragment