---
Posted on October 23, 2016
Rays around you | Event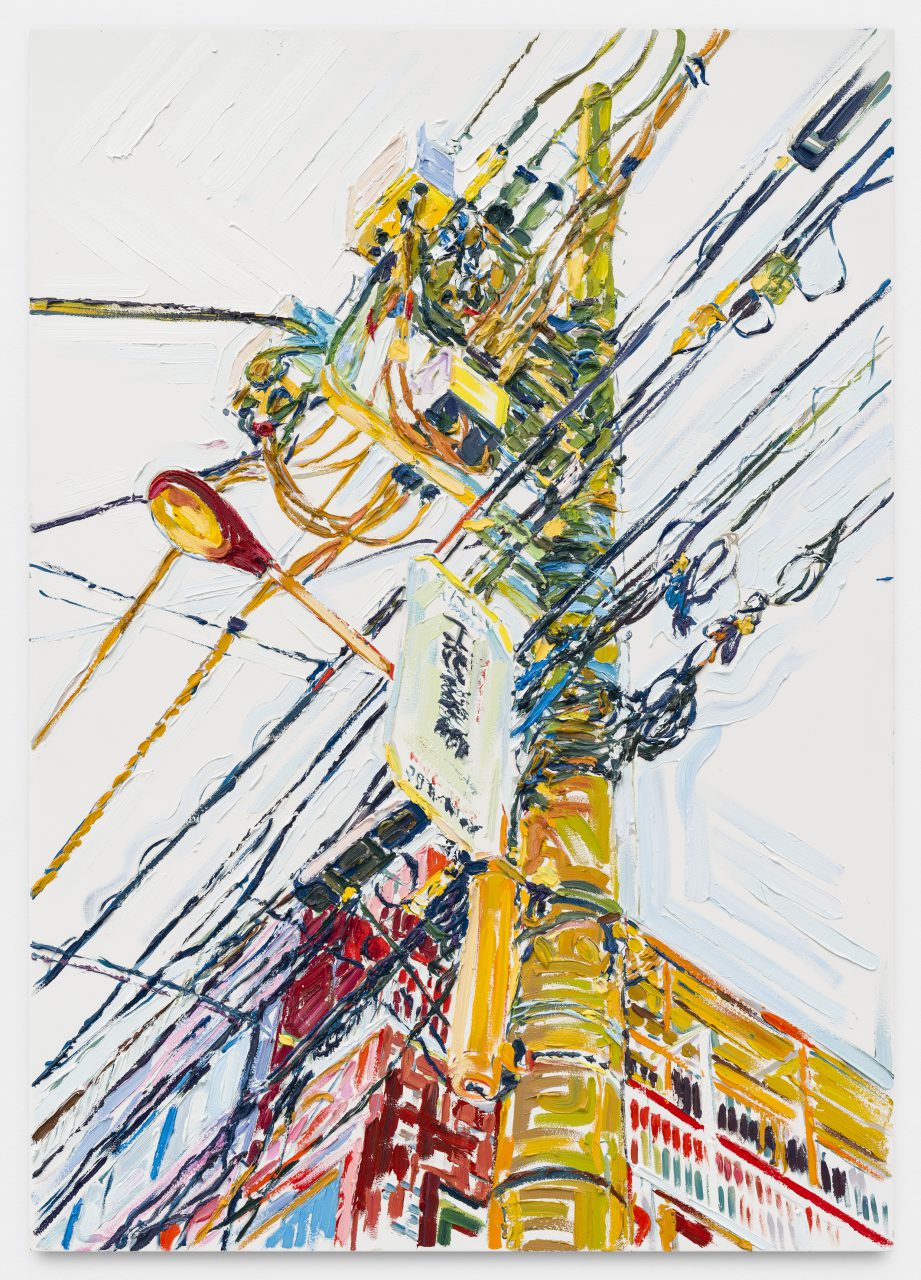 Erik Schmidt |
Rays around you

A dense mesh of color dominates the latest paintings by Erik Schmidt. Small
areas of pigment and moments of looming color are joined together like a
jigsaw puzzle with strong lines in between—and then: white. Many of the
paintings, which were inspired by the time Schmidt spent in Japan in 2015,
shows what one sees if he were to gaze upwards at an intersection: an impenetrable,
unattractive thicket of the utility lines of a megalopolis.
Schmidt pursues these nodes in increasingly strong abstraction. The cables,
the colorful building facades and the gaudy advertisement signs are certainly recognizable,
yet dissolve the more one delves into the image, increasingly becoming pure painting.
Erik Schmidt makes his interest in structure, geometry, and, not least, color as material,
almost physically palpable. His paintings are equally reflections about painting itself—
about color, surface and, influenced by his recent engagement with the tradition of Japanese
art—about line.
When viewing the work, however, the motif always comes into the foreground
like in a kinegram, and the strong, aligning straight lines that emphasize
steep verticals as well as wild masses of entangled color, allows one to
feel the vertigo that may have captured the artist when walking the streets
of Tokyo.
The fascinated, inquiring gaze that a stranger directs towards the city
and another culture is also reflected in Schmidt's video Cut/Uncut, which
he filmed towards the end of his time in Japan. The protagonist—who as in
Schmidt's earlier films is the artist himself—walks through Tokyo, eats,
drinks, and plays on slot machines. He takes part in everyday life and yet
doesn't blend in so well with the society that' is visible around him. Towards
the end of the video, the protagonist cuts his suit in a kind of self-invented
ceremony in a Japanese teahouse and with ties and belts transforms it into a
Japanese seeming robe.
As in his oeuvre to date, Erik Schmidt approaches this complex blend of motifs
in media as varied as painting and film: two different artistic approaches, inspired
by the same subject, whose results could indeed not exist without each other, but
only increase their impact on each other more and more.

Erik Schmidt
(b. 1968, Herford) lives and works in Berlin and is since 1999
represented by carlier | gebauer. He has participated in solo exhibitions
at international institutions such as Leopold-Hoesch-Museum, Düren; Haus am
Waldsee, Berlin; MARTa Herford; and in group shows at Kunsthalle Hamburg;
Hamburger Bahnhof, Berlin; Artists Space, New York; Marta Herford; Museum
Morsbroich; KW Institute for Contemporary Art, Berlin; Matsumoto City Museum
of Art, Japan; and Museum der Moderne, Salzburg; a.o.