---
Posted on December 12, 2018
TOO MUCH LOVE MAKES BAD PORN | Event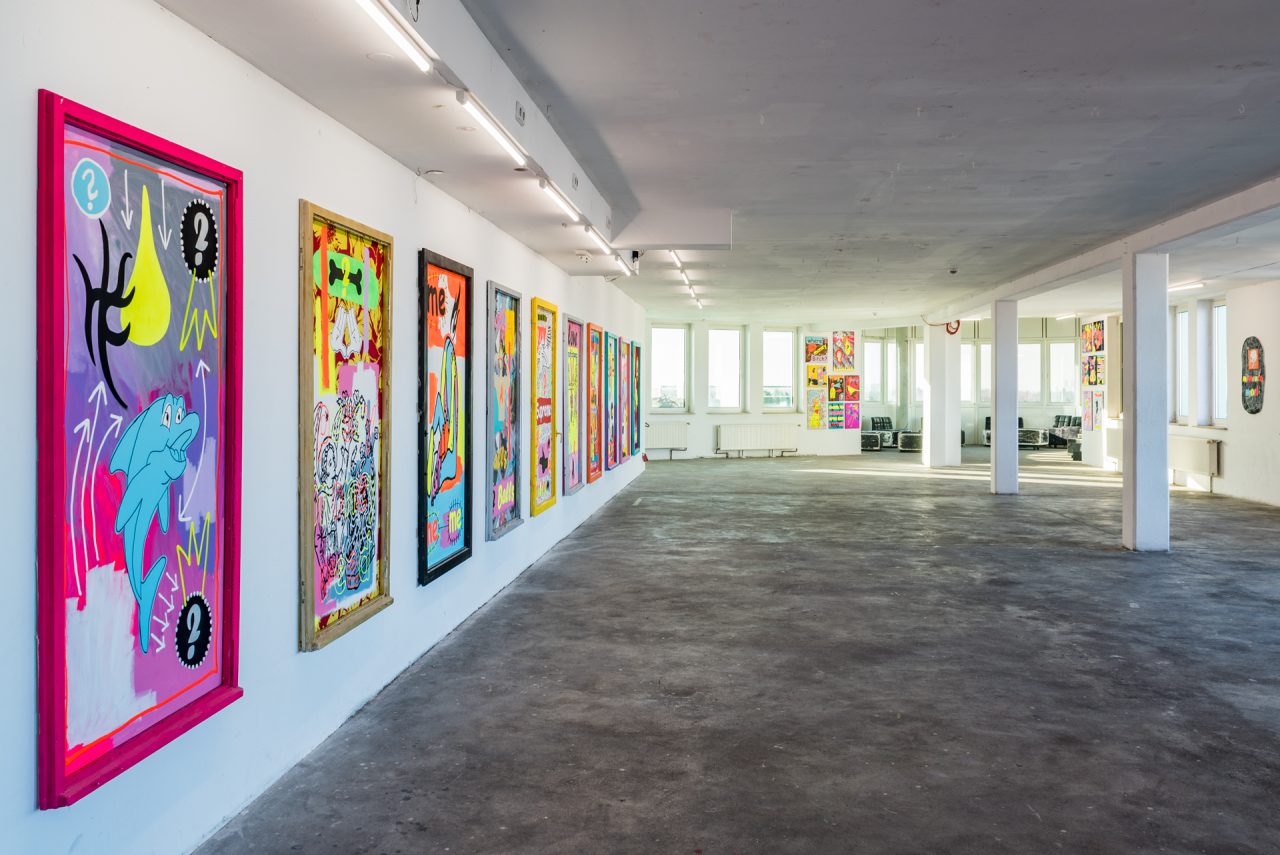 TOO MUCH LOVE MAKES BAD PORN
Einzelausstellung | Greenhouse Gallery

Please scroll down for the English Version

Laut und überwältigend ziehen Kennet Lekkos Malereien die Aufmerksamkeit des Betrachters bedingungslos auf sich. Eine stark assoziative Bildwelt flankiert von scharfen Worten vor knalligem Hintergrund spiegeln die Prozesse und Funktionsweisen der heutigen Digitalisierung und Internet-Kultur samt ihrem Einfluss auf die Rezeption und die Wahrnehmung des Menschen in diesem Kontext wieder. Auf den ersten Blick wirken seine Arbeiten dabei überflach und scheinen ihrer eigenen Oberflächlichkeit zu genügen, öffnen sich aber im Detailblick thematisch dunkleren Seiten des gesellschaftlichen Seins. Aus der Perspektive eines jungen Geistes finden sich zwischen den überdeutlichen Konturen jene Ängste und Zweifel, die sich mit den Dynamiken einer ichbezogenen Generation auseinandersetzen. Mit dem Bewusstsein, selbst Teil der sogenannten Millennials zu sein, ist Lekkos Annäherung Kritik und Selbst-Kritik in Wechselwirkung.

Intensive Farben, an Cartoons erinnernde Figuren und fragmentierte Wörter, gemalt auf Textilien oder Leinwand verschleiern bewusst die Grenzen zwischen Hoch- und Unkultur, ohne dass Lekko hier eine Seite für sich wählt. Der hohe Wiedererkennungswert seiner Bildwelt sichert eine Verbindung des Betrachters zum Werk, lässt diesen aber im gleichen Moment über Inhalt und Ausdruck stolpern.

TOO MUCH LOVE MAKES BAD PORN ist Lekkos erste Einzelausstellung nach dem Studienabschluss an der Berliner Universität der Künste als Meisterschüler von Thomas Zipp. Die großzügige Dachgeschoss-Galerie des Greenhouses bietet hierfür den Raum, den Lekkos Werke zum Wirken benötigen.

Sehr herzlich laden wir zur Vernissage am Samstag, den 8. Dezember 2018, ab 19 Uhr und zur Finissage, eine Woche später, am 15. Dezember 2018, ebenfalls um 19 Uhr ein.

--------
English version

Kennet Lekko
TOO MUCH LOVE MAKES BAD PORN
Solo Exhibition | Greenhouse Gallery

Noisy and overwhelming Kennet Lekko's paintings uncompromisingly draw the viewer's attention to their appearance. Directly connected to the way digitalization and internet culture work on the way we perceive and are perceived, Lekko stylistically mirrors these processes with catchy headlines and strongly associative imagery. On a closer look the seemingly superflat first impression often refers to darker topics and society's fears and doubts seen from a young man's perspective. The artist questions the dynamics of a self-obsessed generation that seems to cling to the idealisation of carefree youth and refuse to grow up, while himself being a part of said generation. Therefore all criticism becomes self criticism first.

With his loud colours, cartoonish figures and fragmented words on textile or canvas Lekko evolves a strongly associative pictorial realm blurring the lines between high and low culture without choosing a side, letting the viewer connect to the imagery and stumble about it at the same time.

TOO MUCH LOVE MAKES BAD PORN is Lekko's first solo show after graduating from UdK Berlin in the class of Thomas Zipp and offers a wide insight into his work. The works will be exhibited in the spacious rooftop gallery at Greenhouse Berlin.

Please feel cordially invited to the opening on December 8th 2018 at 7 p.m. or the Finissage one week later on December 15th 2018 at the same time.
TOO MUCH LOVE MAKES BAD PORN | Event