Rebounder "Open Studio Event" | Event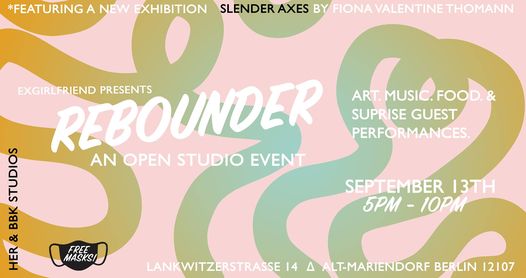 We are finally ready to bounce back after a summer of closed doors and solo work with our next HER & BBK joint open studio event :

Rebounder
HER Open Studio Party #2
joined by the BBK artists-in-studio
organized by Exgirlfriend

Sunday, September 13th
from 17 h – 22 h

HER & BBK studio building
Lankwitzerstrasse 14, 12107

The unofficial pre-after party for Berlin Art Week – A number of artists-in-studio between the HER & BBK buildings will open their studios to visitors for the first time since COVID rocked our collective worlds in a pretty bad way. Exgirlfriend also makes its grand return with an exhibition by Fiona Valentine Thomann in the main Exgirlfriend space. Please come show your support and also enjoy some food, music, performances, etc, in our shared COVID free hof! More details coming soon!

Veteran Exgirlfriend event One Night Stands is back with a
Pop up Print sale in our back room project spaceFood by
Eatyourbohnen

https://www.instagram.com/eatyourbohnen/

Drinks by your good 'ole folks at ExgirlfriendDJs, Performances, and much more

COVID guidelines are in place to ensure everyone's safetyMasks are REQUIRED inside the buildings.
social distancing guidelines will be enforced in the outdoor areas.
an RSVP is required to attend the event. This is for safety purposes.More info coming soon.