---
Posted on November 11, 2016
Jonny Star Lottery | Event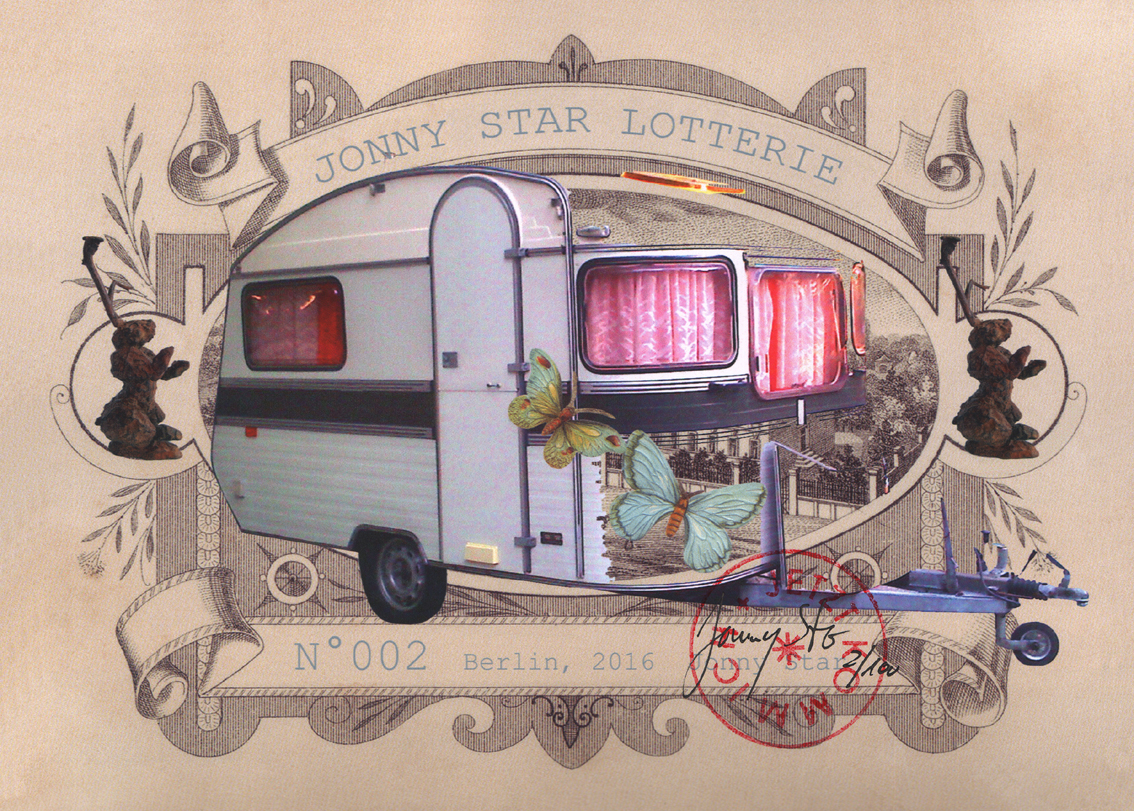 "Jonny Star Lottery", a performance by Jonny Star with The Lucky Fairies, Markus S. Fiedler, Mari Poller, Jonathan Lindhorst, Christoph Neumann, Jonny Star, all owners of a Special Edition and all guests!

Time has come! The Performance "Jonny Star Lottery" by Jonny Star will take place! You can still get a Special Edition "Jonny Star. See Me, Feel Me, Touch Me, Heal Me" and be part of the performance. "Win" a bronze or a pigment print by Jonny Star! The Special Edition will partly fund the new book "Jonny Star. See Me, Feel Me, Touch Me, Heal Me" published by Distanz Verlag in 2016. Owning the Special Edition entitles you to participate in the performance "Jonny Star Lottery".

Special Edition = new book + collage + Lottery!

During the performance two artworks by Jonny Star will be "raffled off" out of 100 "tickets". First prize is a bronze with the value of 6,000 € entitled wachen (Hirschhase). Second prize is a pigment print with the value of 1,200 € entitled Weltstadt Berlin (Ansicht o.T.). The collage of the Special Edition entitled JONNY STAR LOTTERY will be your "ticket" with its individual "raffle number". Buyers can choose their edition and so their "ticket number", subject to availability. You do not have to be present at the performance to "win". More informantion on the the book and Special Edition, availability and the prizes here www.jonny-star.com/special-edition, www.distanz.de

Legal recourse is excluded. The cost of shipping the bronze or the print is not included in the prize.