---
Posted on November 17, 2015
IF EVER BEFORE, FAR OFF, AND LISTEN | Event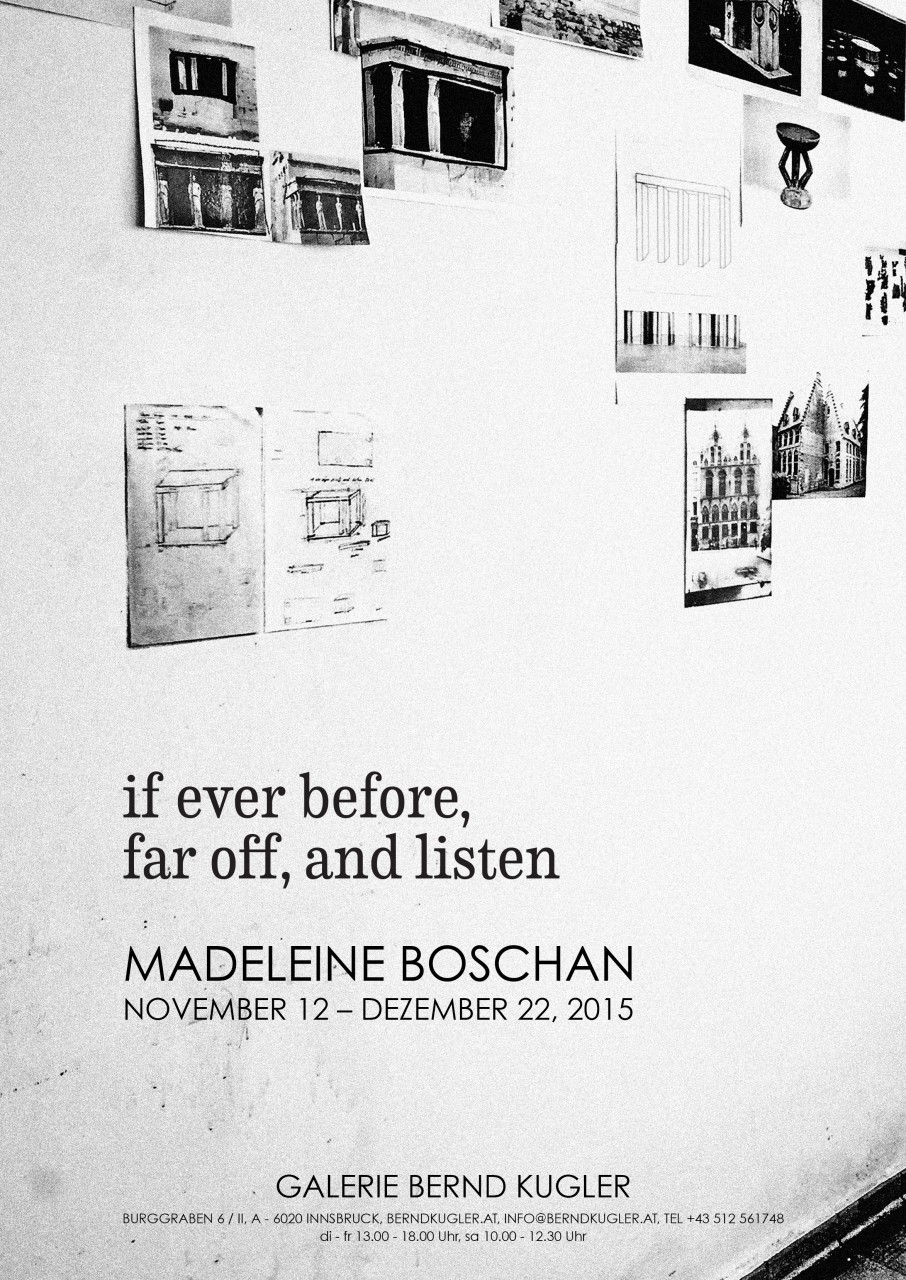 Glittering-minded, deathless Aphrodite
do not shatter my heart
come now, if ever before
you heard my voice, far off, and listened.
What now …
Sappho

Madeleine Boschan's work originates in the assumption that any form of spatial experience first and foremost
constitutes a physical experience: how does a body gain hold and stability, how does it find and
maintain its room in space, how does it connect with other bodies, mutually interact with them? She thereby
takes up influences from ancient Grecian sculpture or the indigenous sculpture of Africa and Oceania,
as well as from behavioral biology, situationism, science fiction, concrete art or minimalism, and, in recent
years, increasingly from literature; be it Samuel Beckett's spatial poetics or recently the tension of precise
everyday observations and subjective self-expressions in the works of American poet Frank O'Hara.
Madeleine Boschan's exhibition in Innsbruck falls into a phase of transition. The artist recounts how, in her
childhood she »loved to cut out paper-furniture, my whole playroom was crammed with it, and now I find
myself in the studio again, cutting out paper models for an exhibition in late 2016, drinking peppered vegetable
juice and lingering either on Tropicália, Jorge Ben, Astrud Gilberto, and Oscar Niemeyer or on the L.A.
River, pastel colours, and »Blade Runner«'s electric billboards. It's all about different concepts of architecture
and spaces within space and, at the same time, of passage or transition – possibly something sculptural
without the sculpture«. The L.A. river and its entire river bed, embedded in 10 meters of concrete for
flood-protection, with its countless bridges and interwoven network of passages, for example, is examined
in the form of a modular sculpture of immense urban dimensions: a dichotomy between auspicious modern
objectivity and inhumane rationalism – only a pale reflection of which was found, for example, in James
Cameron's apocalyptic »Judgement Day« (1991), yet it could still be felt through the cinematic narrative.
Due to their rhythmically ruptured arrangement and »hard jointure« (Friedrich Hölderlin), Boschan's sculptures
in turn serve to arrange and structure the surrounding space, simultaneously marking the place that lies
between them – our participatory-observed sojourn. Always questioning: what and how are the places of
man? After all, her practice, the sculptural creation of space, is not merely an esthetic issue, but rather a
persistently individual, social and ethical one – just as Roland Barthes' final question: Comment vivre ensemble?
How to live together?