---
Posted on October 28, 2019
FLOWER POWER | Event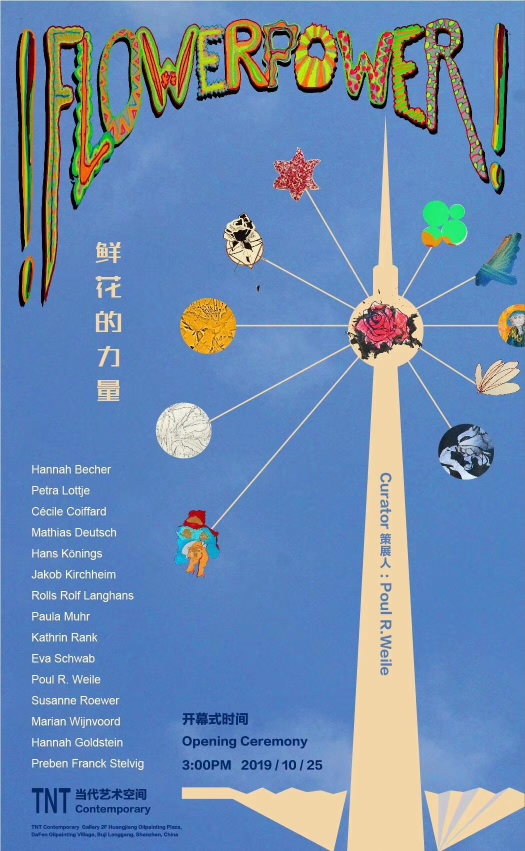 FLOWER POWER ----A BOUQUET FROM BERLIN 鲜花的力量-来自柏林的花束 15 artists – 74 works
All works will be on paper max size. 56 x 76 cm

Curator 策展人: Poul R. Weile
Participation artists: Hannah Becher, Cécile Coiffard, Mathias Deutsch, Jakob Kirchheim, Hans Könings, Petra Lottje, Paula Muhr, Kathrin Rank, Eva Schwab, Poul R. Weile, Marian Wijnvoord, Rolls Rolf Langhans, Susanne Roewer, Hannah Goldstein, Preben Franck Stelvig

Poul R. Weile:
In the TNT Contemporary Art Space will be shown flower interpretations of 15 international artists, all based in Berlin.
A symbolic gesture of love and international brotherhood. The aim is to support the contemporary art of China, by using their broad European basis to encourage Chinese comtemporary artists to dialogue. On a broader perspective they seek to introduce Chinese contemporary art in Europe by launching several exchange programs, and collaborate exhibitions in the European countries where they are originated, that means for example the Netherlands, Denmark, Switzerland and France. The artists are hoping through this way to broaden the mutual understanding between East and West for further development of prosperous collaboration. They see it as a small contribution to solve the challenges in a globalized world. Challenges that call for unity instead of diversion. A vivid and lively exhibition for China to enjoy

Kathrin Rank:
Usually I paint insights and perspectives. I play with shadows and light where the backlight morphs characters in silhouettes. The exterior is a gateway to the interior, the external landscape is transformed into an inner landscape.
For the exhibition FLOWER POWER I decided to realize this theme with a three-stage paper collage. For me it was important to realize the theme of flowers at first glance abstract. On the one hand, the cut-out shapes that release the underlaid paper, and then the glued-on paper forms, which make the shape of a body detail visible. The flower motifs drawn with black finliner are explained as tattoos.

FLOWER POWER | Event