DYSTOPIAN RECESS | Event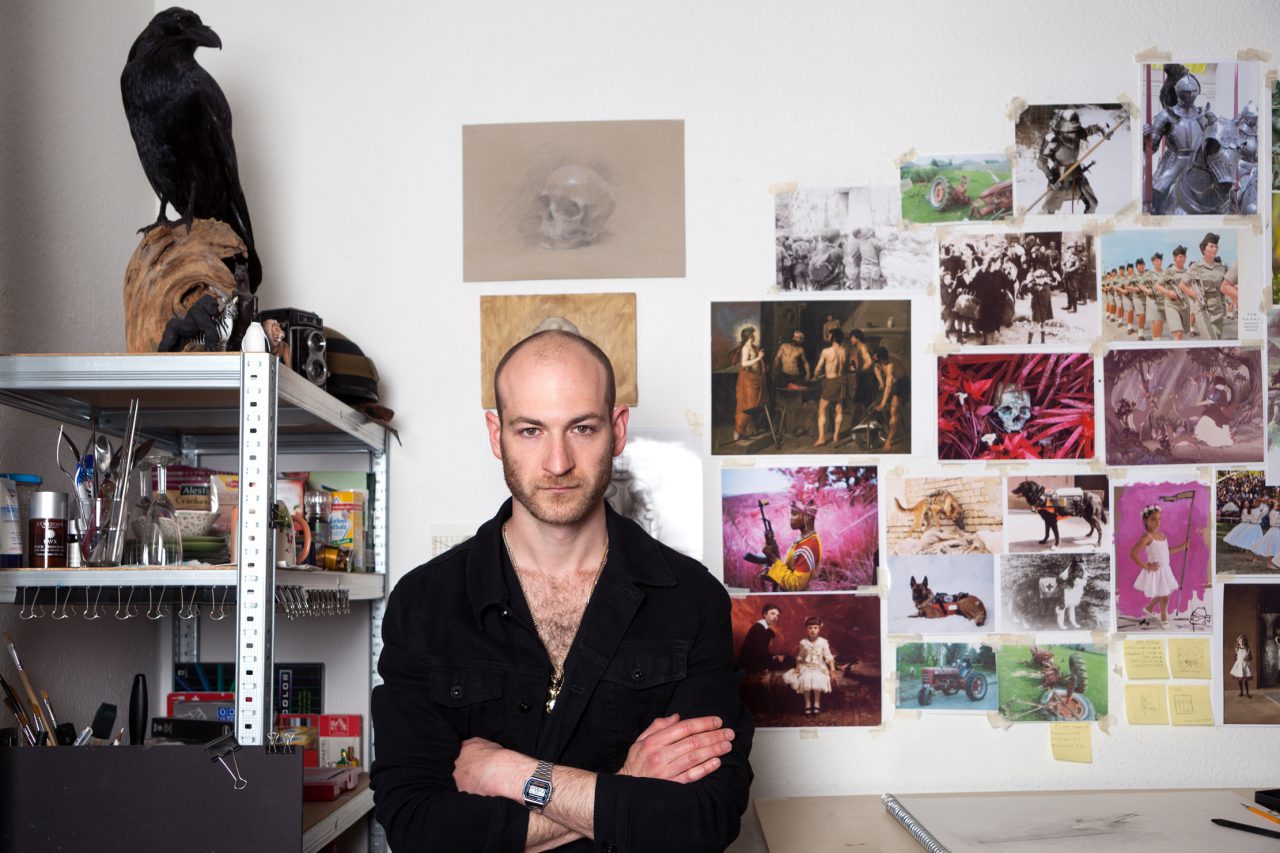 Pause von Bedrohungsszenarien, Verschwörungs-theorien, Irrationalität und Machthunger. Die erste große Einzelausstellung des jungen israelischen Künstlers Sahar Zukerman, der seit 2012 in Berlin lebt.

Scroll down for English.

Text CRONE:
Wir freuen uns sehr, die erste Einzelausstellung von Sahar Zukerman in unserer Galerie ankündigen zu dürfen und möchten Sie sehr herzlich zu deren Eröffnung einladen. Sie findet statt am Freitag, den 24. Juni 2016, von 19:00 bis 21:00 Uhr in der Rudi-Dutschke-Straße 26, 10969 Berlin. Zu sehen sind neue Malereien, Papierarbeiten und eine raumgreifende Installation.

Sahar Zukerman wurde 1985 in England geboren und wuchs in Tel Aviv auf. Seit 2009 lebt er in Berlin, wo er 2013 an der Universität der Künste bei Leiko Ikemura seinen Meisterschülerabschluss machte. Er widmet sich hauptsächlich der Malerei, beschäftigt sich aber auch mit dem Themenfeld digitaler Darstellungsformen. So hat er für den Raum im Erdgeschoss der Galerie ein großformatiges Tableau geschaffen, in dem er klassische malerische Techniken mit digitalen Gestaltungs- und Visualisierungsprozessen verbindet und das in einem aufwendigen Lentikulardruckverfahren hergestellt wurde. Durch eine bestimmte Anordnung von Prismen verändert und verschiebt sich das Motiv je nach Betrachterstandpunkt.

Mit dem Ausstellungstitel "Dystopian Recess" spielt Zukerman auf das Thema an, das den geheimnisvoll und verwunschen wirkenden Motiven seiner Bilder zugrunde liegt. Die Dystopie, das seit einiger Zeit wieder massiv um sich greifende Manipulationsinstrument aus Verschwörungstheorien, Bedrohungsszenarien und Irrationalem, wird hier in vielschichtigen Bildwelten veranschaulicht. So setzen sich die Arbeiten aus Elementen der Mythologie und des kollektiven Gedächtnisses ebenso wie Trickfilmfiguren und Kriegsschauplätzen zusammen. Die Arbeiten beziehen sich aufgrund der Herkunft des Künstlers stark auf die jüdische Kultur, lassen sich jedoch auch im globalen Zusammenhang lesen: Geschichte, Religion und Mystik werden zum Auf- und Ausbau irrationaler Machtstrukturen instrumentalisiert.

————————————————————————

We are delighted to announce the first solo exhibition of Sahar Zukerman at our gallery and kindly wish to invite you to the opening. It will take place on Friday, June 24, 2016, from 7 to 9 pm at Rudi-Dutschke-Strasse 26, 10969 Berlin. New paintings, paperworks and an extensive installation will be on view.

Sahar Zukerman was born in 1985 in England and grew up in Tel Aviv. In 2009, he moved to Berlin and began to study at the Universität der Künste, where he made his Meisterschüler degree in the class of Leiko Ikemura in 2013. He works mostly in painting, but is also dealing with the field of digital modes of display. For the space at the ground floor of the gallery, he invented a large scale tableau in which he connects the technique of classical painting with forms of digital visualizations by using an elaborate lenticular printing method. Caused by a certain arrangement of prisms, the motif is changing and moving, depending on the viewer's standing point.

With the exhibition title "Dystopian Recess", Sahar Zukerman alludes to the thematic basis of his mysterious and enchanted paintings. The dystopia, the pattern of local and global structures, consisting of conspiracy theories, threat scenarios and irrationality, is displayed in various and complex ways. The works show elements of mythology and collective memory as well as cartoon figures and theaters of war. Due to the origin of the artist, the paintings are very much related to Jewish culture but are also comprehensive in a global context: history, religion and mysticism are used to establish irrational structures of power.